The Rocky Mountain Vibes and Springs magazine are offering the Toasty S'mores Tasting Contest in honor of the minor league baseball team's mascot, Toasty the S'more.
Six Colorado Springs restaurants are creating s'more-inspired dishes through May 20. The only requirement is to include each element of a classic s'more — chocolate, marshmallow and graham cracker.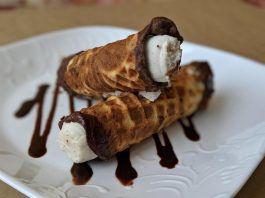 From the looks of the entries, chefs are incorporating plenty of culinary imagination. Think Smoky S'mores Cannoli from Pizzeria Rustica, a graham cracker cannoli with amaretto marshmallow fluff and smoked chocolate sauce. Or Till Kitchen's Savory S'more Lamb Chop, which is crusted in graham cracker and tarragon and comes with marshmallow creamed potatoes and braised baby carrots with a dark chocolate demi-glace.
Other competitors are Coquette's Bistro and Bakery's S'mores Cheesecake Bar, HuHot Mongolian Grill's Sweet Victory S'mores (cooked tableside like a camping experience), Urban Egg's S'mores Pancake and The Warehouse Restaurant's S'mores Florentina.
Visit these eateries, enjoy the treats and vote for your favorite at springsmag.com. The Toasty champion will be announced at an early-season Vibes game.