Meet Jose Guerrero, executive chef for ViewHouse Restaurants. He was the first-place winner at a cook-off held during Taste of Douglas County, Aug. 23, with his surf and turf dish, which earned him a $1,000 cash prize.
Good news for all us who are anticipating the opening of a ViewHouse Restaurant at I-25 and Woodmen Road. Guerrero will be heading up the culinary team at the eatery,
"We are very excited about the Colorado Springs location," he said. "Some details are still being worked out, but the hope is for it to open in the fall of 2019."
Guerrero was one of eight chefs in the cook-off whisking up delicious food for the judges, which included yours truly. His dish was a standout for its beautiful presentation of vibrant colors and detail to artful food arrangement. The layers of flavors pushed his dish to the top score.
• Second place, $500 cash prize: Mike Hernandez, owner of Office Kitchen and Bar, Castle Rock.
• Third place, $250 cash prize: Lisa Storey, owner Mama Lisa's Little Italy, Castle Pines.
• People's Choice: Denis White, owner DW's 285 Diner, Conifer.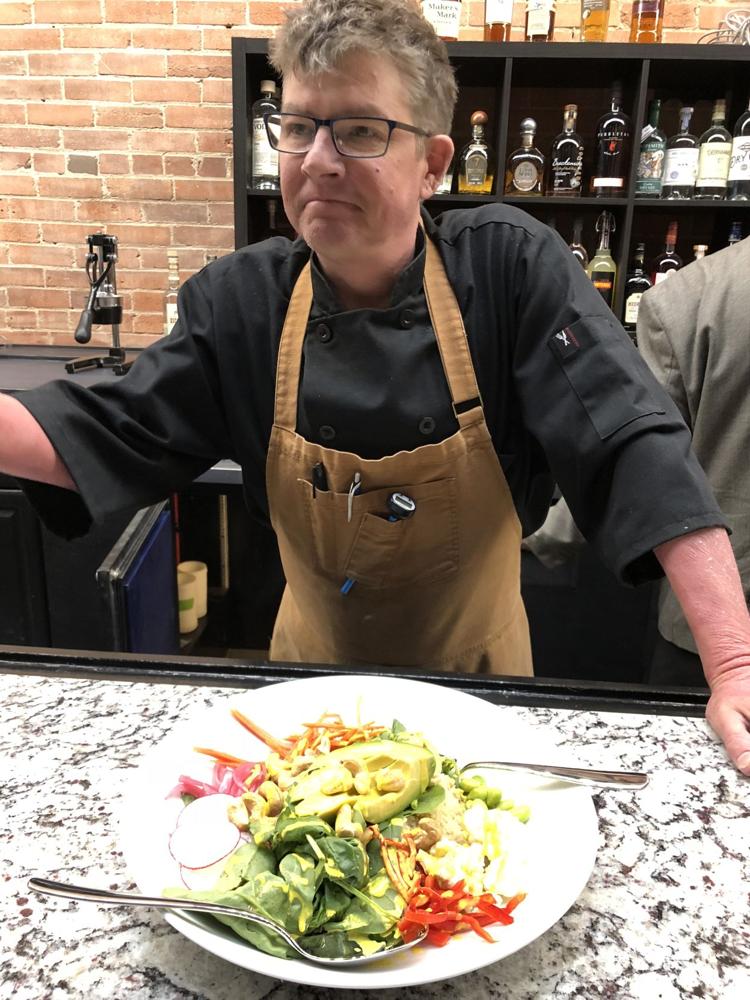 Desirable streetcar
If you haven't dined at Streetcar520, 520 S. Tejon St., what's standing in your way? Ketil Larsen, executive chef, is unleashing his 35 years of culinary award-winning talent by creating a globally inspired menu that keeps customers coming back for more. His ahi poke bowl is a classic example of careful execution of Asian flavors that excite taste buds. If given the choice of sides with an entrée, be sure to try the kimchi slaw. It's good enough to be a stand-alone main. Details: 633-3300, streetcar520.com.
'KRDO Table Talk'
Guests on the "KRDO Table Talk" radio show on 105.5 FM, 1240 AM and 92.5 FM at 1 p.m. Saturday:
• Gretchen Pressley, community relations manager, Humane Society of the Pikes Peak Region, 610 Abbot Lane, talks about Pawtoberfest at Bear Creek Regional Park, 21st St. at Rio Grande Ave., Sept. 15. One of Colorado's only dog-friendly festivals, featuring a craft brews and spirits tasting, a 2-mile dog walk, more than 75 sponsors and vendors, music, agility demonstrations, pet contests, activities for the whole family and food for purchase from local food trucks. Tickets required. Visit hsppr.org.
• Jamie Humphrey, administrative dietitian for Colorado Springs School District 11, talks about the Good Food Project and other food service programs offered by the district.
• Dylan Montanio, chef-manager at Smørbrød, 2727 N. Cascade Ave., talks about the 20 unique hearty, open-faced Nordic-inspired sandwiches on rugbrod rye bread. Hours are 11 a.m. to 10 p.m. Sundays through Wednesdays and 11 a.m. to 11 p.m. Thursdays through Saturdays. Details: 634-2727, smorbrod.com.
• Matthew Hexter, founder and vintner, Evergood Elixirs in Palmer Lake, talks his whimsical brand of citrus wines called Skier Pee and Snow Bunny. They take six weeks to ferment and the ABV (alcohol by volume) is 10 percent. Both are gluten-free. Visit evergoodelixirs.com.