Wally Rivera, owner of El Corillo Pinchos de Puerto Rico, is serving Puerto Rican fast food from his mobile trailer grill. He made a stop at the Food to Power Harvest Fest on Nov. 13, where he was grilling chicken or veggie Puerto Rican-style barbecue kabobs pinchos. Pinchos is Spanish for "spikes," which are a Puerto Rican fast food staple. He tucked a fat slice of grilled garlic bread in the tray with the kabobs. He can be found often at 719 Food Truck Fest. Details: 719-354-4160, facebook.com/elcorillopinchosdepr.
Related to the Food to Power Harvest Fest, there were tours of the Hillside Hub, 1090 Institute St., which will be equipped with a full-scale production farm. "We will be able to grow fresh fruits and vegetables," said Slade Custer, communications and development manager for Food to Power.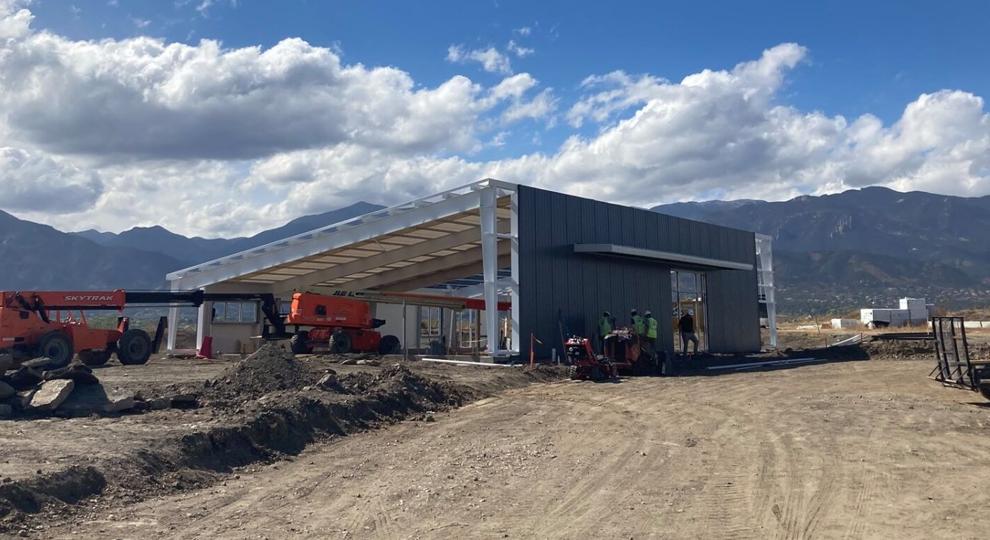 "There will be a large-scale composting park, an events space, kitchens and classrooms to teach people how to cook and other relevant skills, as well as house our administrative offices."
The project has been five years in the making with revisions of building plans, permits and fundraising.
"We broke ground on it June 12 of this year," he said. "And it's set to open in February."
Visit foodtopowerco.org/hillside-hub.
Big new idea
Epiphany, 32 S. Tejon St., has opened on the upper level of the former Thirsty Parrot. Mandy Todd, Russ Ware, and Benjamin Gallegos Pardo are managing partners. Pardo is the chef, who is preparing a limited menu the first couple of weeks. Dishes boast a mix of his Colombian, Spanish and New Mexican influences and flavors. The eatery is a breakfast and lunch spot by day and transitions to a dinner format with a bar and live music venue in the evenings. Hours are 7 a.m. to 10 p.m. Mondays through Thursdays, 7 a.m. to midnight Fridays, 8 a.m. to midnight Saturdays, and 8 a.m. to 10 p.m. Sundays. Details: 719-358-7500, epiphanycos.com.
Changing hands
Carolina and Danny Aguilar, the owners of Salsa Latina, 28 E. Rio Grande St., are retiring and handing the business over to Aguilar family members Christina Medina and Rebecca Nix, who are continuing the popular menu with the addition of some new dishes.
"We have extended hours and the big change is that we take credit cards," Medina said. "That's a big deal."
Hours are 10 a.m. to 6:30 p.m. Mondays through Fridays and 10 a.m. to 3 p.m. Saturdays. Details: 719-328-1513, facebook.com/Salsa-Latina- 116175365074177.
Open again
Poor Richard's Downtown, 320-324 1/2 N. Tejon St., has reopened since closing Nov. 7, 2020, for renovations. Hours are 8 a.m. to 7 p.m. Mondays through Fridays, 9 a.m. to 7 p.m., and 9 a.m. to 5 p.m. Details: 719-578-5549, poorrichardsdowntown.com.
Contact the writer: 636-0271.