Mundi Ross and Grace Harrison, owners of ALMAGRE Venue + Bar, 2460 Montebello Square Drive, debuted the event center with a Sunset Supper on July 9, the first of four monthly themed dinners showcasing top chefs.
Award-winning Supansa Banker prepared the "Color Chroma" meal, with intense hues and flavors in food and cocktails. Bar manager Christian De Los Santos, for example, made a sunsetlike drink by streaming spirit infused with butterfly pea blossom. The flower turns the spirit a deep blue shade. When poured down the side of a glass filled with an orange mixture, the blue liquid sank to the bottom, magically creating a blue layer under the orange beverage. It looked stunning.
Wrapping up the evening, Banker's Tricolor Water Chestnut Gem Panna Cotta was equally beautiful and wowed the diners. She, too, used the strikingly blue butterfly pea flower extract with some molecular gastronomical techniques.
"I soaked cubes of water chestnuts in three colored extracts. One was made with the butterfly pea blossoms, another with hibiscus flowers and another with pandan leaves," she said. "Then I covered the cubes in tapioca flour and boiled them."
The pearly white panna cotta made the perfect canvas to show off the dazzling "gemlike" orbs of sparkling blue, hot pink and lime green garnishes. And they were flavorful, too.
Three dinners remain in this series. Amy Fairbanks, former executive chef at Garden of the Gods Market and Café, will prepare her Italian Summer Garden Feast at 6:30 p.m. Aug. 13. Cost is $55.
Pete Moreno, executive chef at MacKenzie's Chop House, is on tap for Sept. 10, and a surprise guest chef will prepare the dinner Oct. 8. A package for the three remaining dinners costs $150, or they can be purchased individually for $55. Visit facebook.com/almagrevenue.
Ancient Mariner redo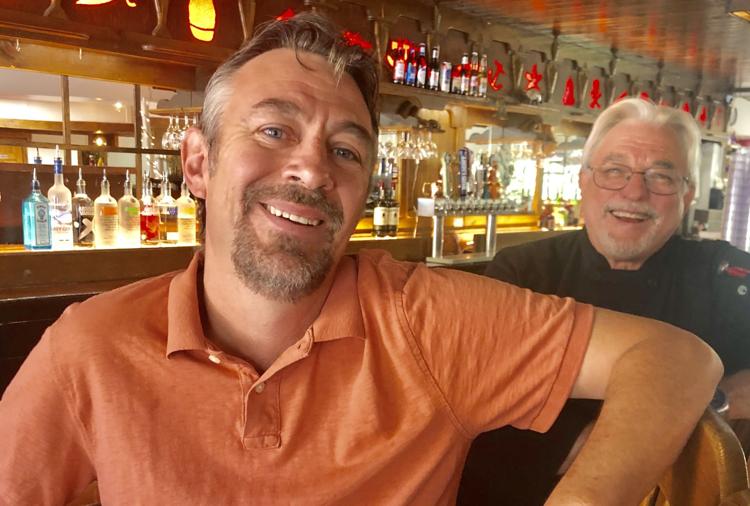 Ahoy, matey! The Ancient Mariner, 962 Manitou Ave., Manitou Springs, is undergoing change under owner Jason Wells, with help from Lyn Ettinger-Harwell. Say hello to Armadillo Ranch, where you can enjoy Italian barbecue, live music and a full bar. Said Wells, former city administrator of Manitou Springs, "I'm committed to staying in Manitou Springs and wanted a decent place to get a sandwich, have a drink and share with the community."
Ettinger-Harwell is the consulting chef who has created the menu and will run the kitchen while training a culinary team.
"We'll have the classic Italian dishes along with sandwiches, soups and salads," he said. "I'm going to make braciole Neapolitan. It's thin-sliced Callicrate beef wrapped around a filling of Italian meats and cheeses that is slow cooked."
Hours are 11 a.m. to 8 p.m. daily for the full menu in the dining room. The late night menu in the bar is available 8 p.m. to 2 a.m. daily. Details: 374-5580, facebook.com/pg/manitouarmadilloranch.
Happy anniversary
Walter Iser, proprietor of Walter's Bistro, 146 E. Cheyenne Mountain Blvd., is celebrating his 20th anniversary with a special prix-fixe (fixed-price) menu with a half-price bottle of any wine during July. For $36, select lobster bisque or house salad; entrées of filet mignon with mashed potatoes, seasonal vegetables and red wine demi-glace; walleye with wild rice, vegetables and lemon beurre blanc; or chicken marsala with angel hair pasta and mixed vegetables. The dessert choices are molten chocolate lava cake or strawberry cheesecake. Hours are 4:30 to 8:30 p.m. weekdays and 5 to 9 p.m. Saturdays. Details: 630-0201, waltersbistro.com.
Contact the writer: 636-0271.