Dining at a restaurant bar has so many advantages that I almost hate to share them, and a recent experience at The Famous A Steak House was no exception. In fact, the pluses were elevated. While this downtown eatery might prefer me to keep a cork on the bar benefits, it's evident I'm not alone in my opinion.
Bar patrons may order off the regular dinner or bar menu. Be forewarned, the former requires a larger wallet, but the latter is no nickel-and-dime option either. Still, given the excellent service we received, along with the exceptional food, we got more than our money's worth.
Among the pros for eating at the bar is the ability to carry on a conversation, not only with the person you arrived with but with others, especially the bartender, who was our server. He intuitively knew when to interject and linger and when not to. He kept water glasses full, cleared empty plates and inquired about our food and beverages, all while doing the same with everyone else seated around the oval-shaped table.
Some conversations extended to strangers while others remained private. A bar might not be the most romantic place to sit, but where else can you lean on elbows without feeling rude or lazy?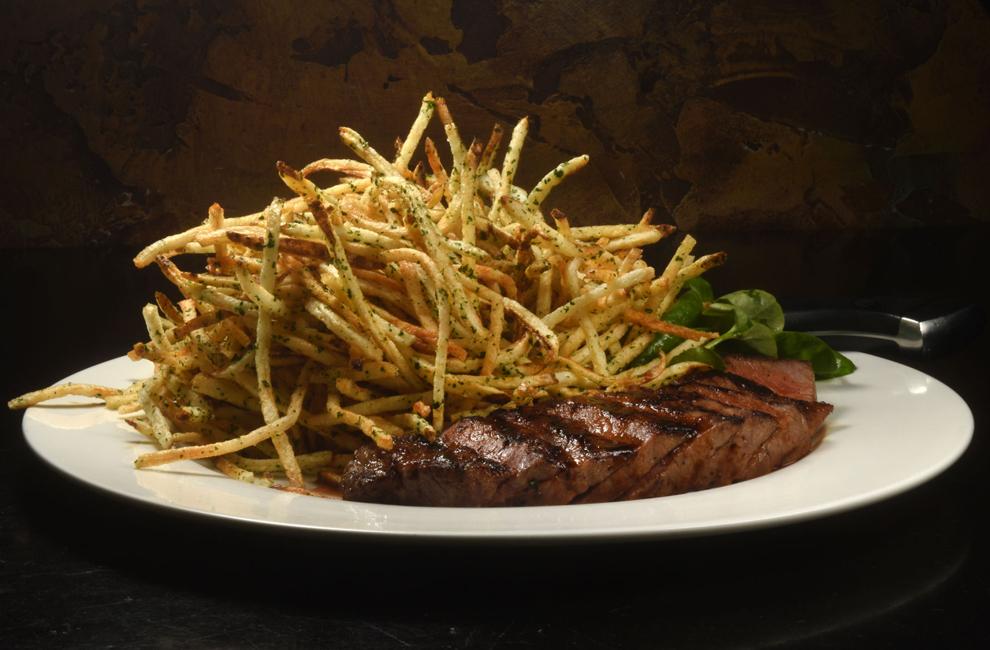 After ordering drinks, we selected the heirloom tomato salad ($9) from the regular dinner menu and the steak and frites ($28) and filet mignon sliders ($16) from the bar menu. I was curious about the lobster "corndogs" ($25), but we didn't order them. I did learn they are pieces of lobster tail coated with cornmeal batter, then fried and drizzled with mustard aioli.
The salad was a photo-worthy blend of sliced yellow, cherry and red tomatoes topped with ricotta cheese crumbles, paper-thin prosciutto, shredded basil and lemon vinaigrette. This was a burst of summer flavors in the middle of winter. We mentioned that our intent was to share the salad; something we thought would be easy enough to do without making a mess. However, our server thoughtfully had it brought on two plates.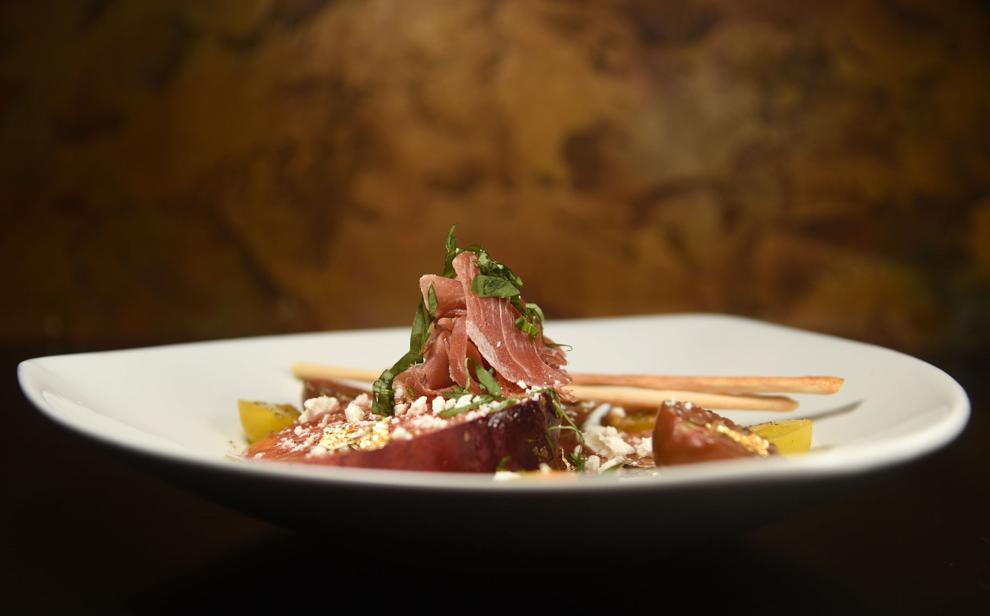 Diners are served a round loaf of house-baked rosemary bread. Using a kitchen torch, our server quickly softened two pats of butter to allow for easy spreading. He also sprinkled a little salt on top of the butter. Subtle showmanship is often part of bartending, but I didn't expect it when it came to the food.
My medium rare prime New York strip steak was tender and faultless with its seared edges and pink center. A massive mound of seasoned shoestring potatoes almost overwhelmed the plate, but they were difficult to resist.
Fries also come with the sliders but we subbed in onion rings, which arrived in a large bowl. The golden-brown, battered onions were a crunchy accompaniment to the three small sandwiches. Pieces of filet mignon topped with bacon and caramelized onions were held in place by thick, slightly sweet Hawaiian rolls. The only problem was too much bread in proportion to the amount of meat. It was easy enough to cut off some of the rolls to remedy the situation.
The Famous is a dark but lively restaurant with lots of high-baked, red leather booths. When I've eaten in the dining room in the past, I found it loud and never knew there was live piano music until it was time to leave. My advice, borrowing from an "Unsinkable Molly Brown" show tune: Belly up to the bar!
Restaurant: The Famous
Address: 31 N. Tejon St.
Contact: 227-7333; thefamoussteakhouse.net
Restaurant character: Upscale steakhouse
Rating total: 4.75 of 5 forks
Food: 4.75 of 5 forks
Ambiance: 4.5 of 5 forks
Service: 5 of 5 forks
Hours: 4 to 10 p.m. Sunday-Thursday; 4 to 11 p.m. Friday and Saturday (11 a.m to 3 p.m. Monday-Friday
Entrees: $32 to $65 (dinner) menu; $16 to $28 (bar menu)
Alcohol: Yes
Credit cards: Yes
Vegan options: Yes
Outdoor dining: Yes
Gluten-free options: Yes
Wi-fi: Yes
Facebook: Yes
What's online as of Feb. 12:
• 8.4 of 10 based on 99 votes on Foursquare
• 4 of 5 stars based on 442 reviews on TripAdvisor
• 4 of 5 rating based on 138 votes on Zomato
• 4 of 5 stars based on 320 reviews on Yelp
Excellent rating Aug. 20 by El Paso County Public Health.