From his second-floor studio, painter Ezra Tucker gazes out onto the wilderness surrounding his Monument home.
There are a pair of owls living in the trees, he says, and regular packs of mule deer, a bobcat, a mountain lion and other creatures that come strolling through. The external world matches the internal one, where his huge, gorgeous, hyper-realistic paintings of a tiger and buffalo hang on the walls, and another of a pack of coyotes observing a herd of buffalo with its calf leans up against his stuffed to overflowing shelves of historical and animal books.
Tucker is a longtime, award-winning artist whose work is sought after by collectors, hangs in museums and is part of some of the country's largest exhibits, including Norman Rockwell Museum's "Imprinted: Illustrating Race" last year, and "2023 Masters of the American West," up at the Autry Museum in Los Angeles.
Over the last few years the Black artist has entered a new chapter in his career, expanding from wildlife into Black Western art. Resting on his easel on a snowy January day is a painting depicting a Black cowboy riding a bucking horse. Nearby are piles of books about the history of Blacks in the American West. His interest in painting Black historical figures isn't new, but living in Colorado and the racial tumult of the last several years have brought forth his once dormant passion.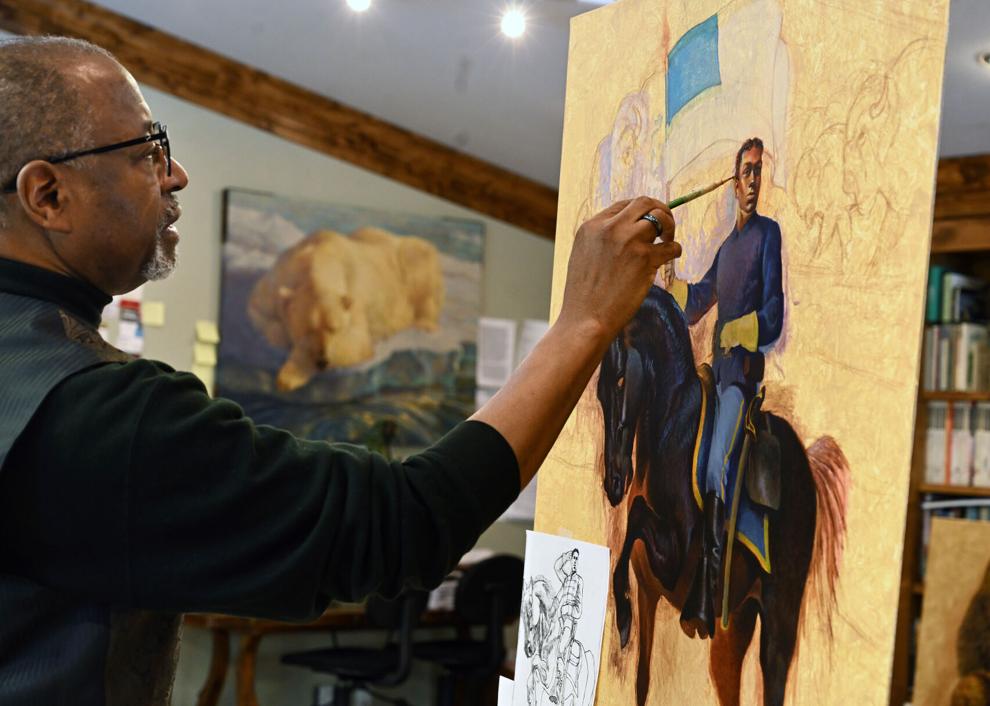 "The Western art market has got all this imagery and there's nobody doing Blacks that moved west," Tucker said. "Most of the art being done is the Anglo cowboy and doing reconstruction after the Civil War when a lot of Blacks from the South moved north and west. The ex-slaves had skills to work with livestock because they worked with livestock on plantations, so when they moved west they worked on ranches as cowhands. But you never see those paintings."
With his revived embrace of Western art, Tucker is at the top of his career. Locally, his work hangs at Broadmoor Galleries at The Broadmoor, where last year he shared an exhibit with Black Western artist Thomas Blackshear, his longtime friend who lives in Colorado Springs, and Black figurative artist Dean Mitchell. And his wildlife and Western pieces are about to go on a three-year, cross-country romp in the traveling exhibit, "The Art of Ezra Tucker." It opens July 1 at Hiram Blauvelt Art Museum in Oradell, N.J.
"The first thing about his work is the quality," said David J. Wagner, curator and tour director for the traveling exhibit. "He really understands how to paint and how to tell a story through his work. It's aesthetically interesting, but in terms of the storyline it's the diversity and timeliness of his subject matter. Those ingredients got me thinking it's time to have his work percolate up from large juried group shows into a traveling one man exhibit."
Expanding his canon of work
It was George Floyd's death in 2020 that prompted Tucker to go into his basement, unearth his Western paintings and give them another go.
He'd tried to get galleries interested in his works featuring buffalo soldiers, Black cowboys and Black lawmen around 2007, but there was no audience, he was told. Nobody was interested in that part of American history, so he shelved them and returned to painting his beloved animals.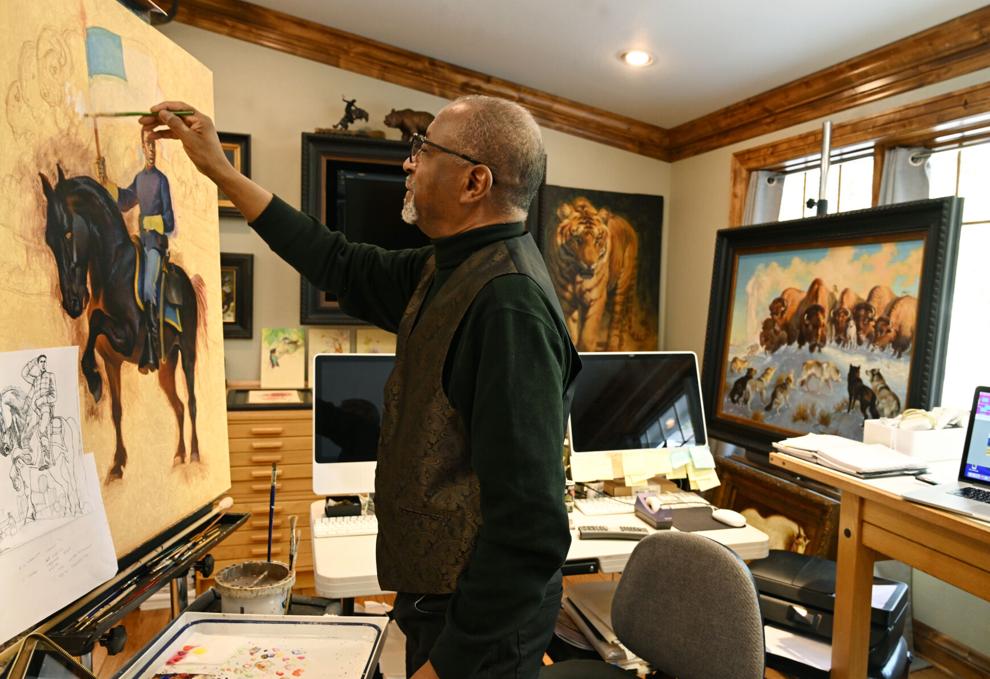 But then Floyd died and the country erupted in protests, uprisings and social activism that shined a renewed light on racism. The time was ripe, Tucker thought, to revisit the work. And he was right. Museums paid attention and bought his pieces, including The James Museum of Western & Wildlife Art in St. Petersburg, Fla., and Briscoe Western Art Museum in San Antonio.
"They're stunning and executed incredibly well," said Lisa Wheeler, director of curatorial services at Booth Western Art Museum in Cartersville, Ga. The museum has two of Tucker's Western paintings in its permanent collection. "Everything about him is just perfect in terms of detail."
Six of Tucker's wildlife and Western works were accepted into the Coors Western Art Exhibit and Sale in January, a prestigious annual show held during the National Western Stock Show in Denver.
"I don't include work by artists who are telling someone else's story," said exhibit curator Rose Fredrick. "Say there's a white artist who wants to paint about Black artists in the West. It's not going to work. Having Ezra in the show to talk about that was so wonderful and so much fun."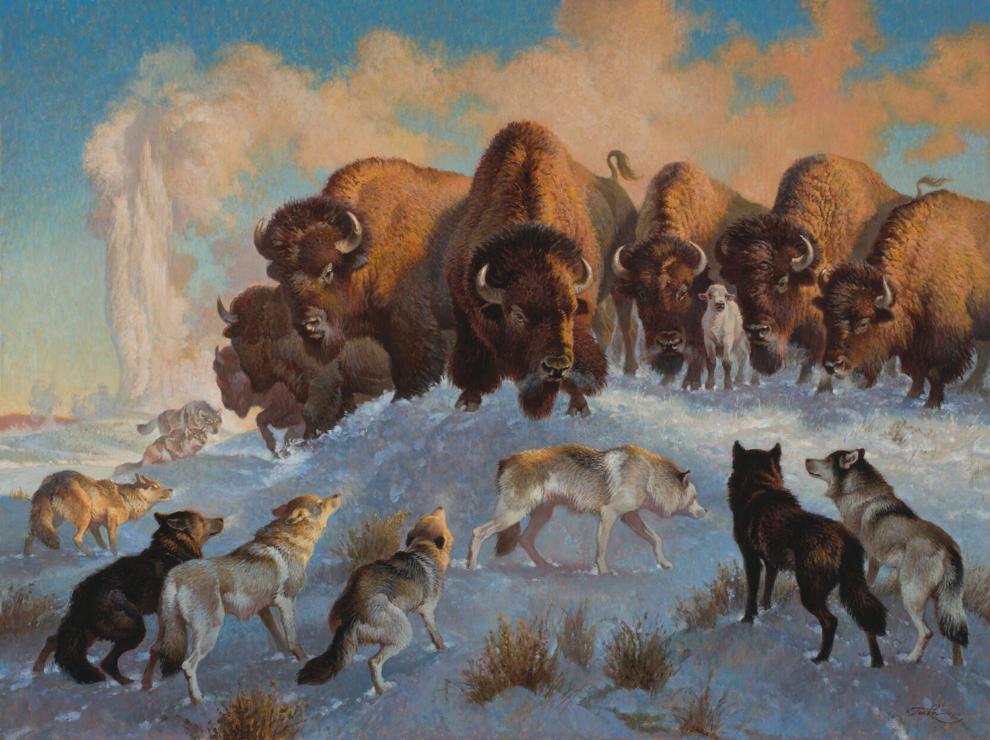 She was able to use Tucker's works during tours to talk about historical Black figures, including Bass Reeves, the first Black deputy U.S. marshal west of the Mississippi River.
"When it was a white audience and I asked who knows who Bass Reeves was, not a single hand went up, "Fredrick said. "But when it was a Black audience everyone knew. They said they grew up knowing about Bass — he's a hero. That is the amazing thing Ezra brings to the show."
There seems to be an interest now in knowing the history of our country, Tucker says. And it's not only cowboys, soldiers and lawmen he wants to portray in his work, but the Black doctors, educators, entrepreneurs and miners who make up our country's history.
"Why aren't there paintings and pictures being promoted or presented of these Black faces that were as intertwined in American history as whites were?" Tucker said.
"I want to present this image and you can do the research and know I'm not making these stories up as a militant reaction to racism that is embedded and part of our culture."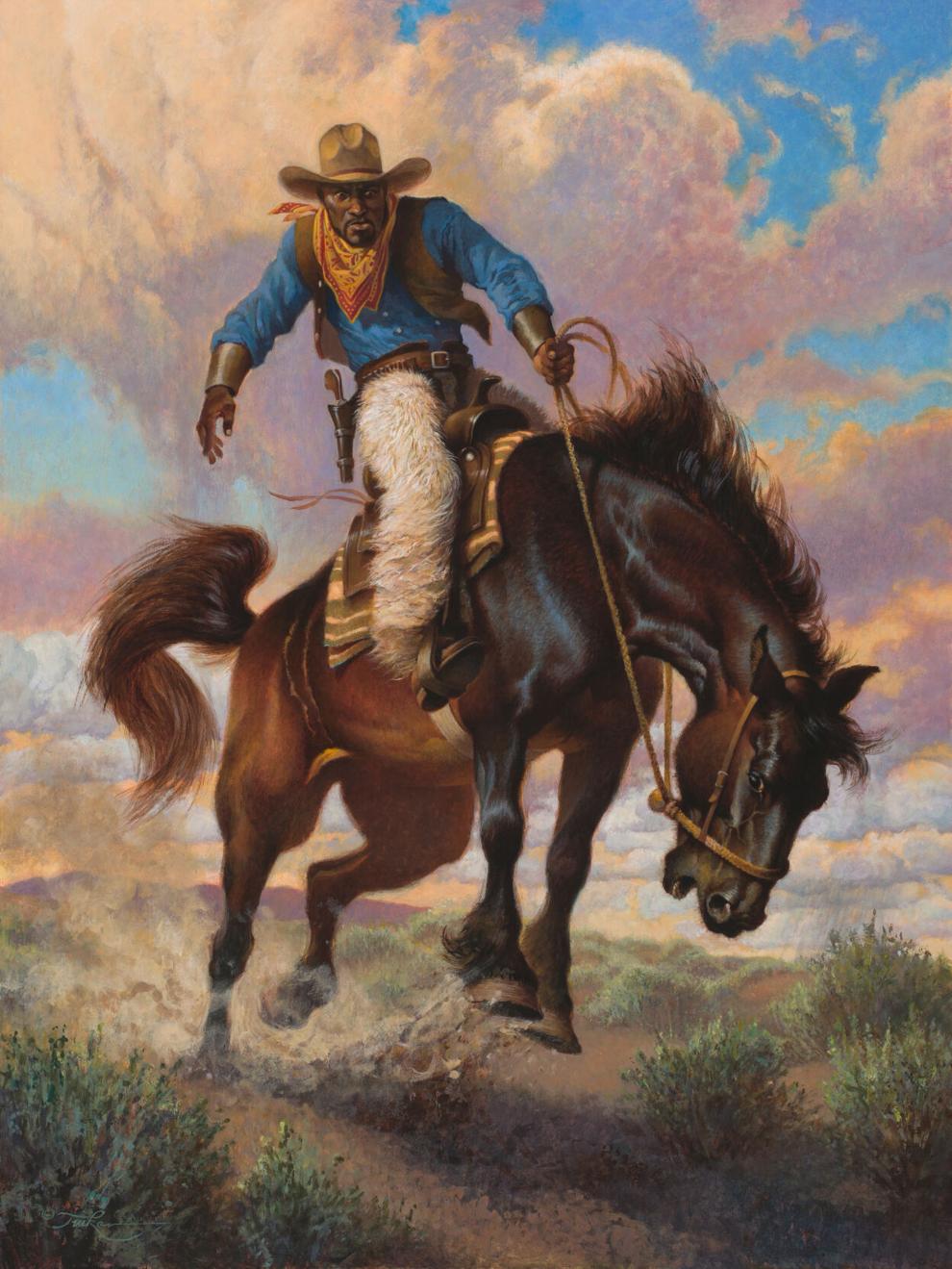 And Tucker knows all about racism. He was once an artist who didn't attend his own exhibits and eschewed accompanying his agents to meetings about potential projects, preferring instead to paint in his studio. His reluctance wasn't always due to a strong work ethic, though he certainly had that in abundance, but because of the racism he regularly experienced when people first met him and realized he was Black.
He's got more stories than any one person should about the casual racism he's experienced all over the country, as well as projects he suspects were canceled once the color of his skin was revealed to prospective employers. And it's been a regular experience at exhibits through the years, such as the 2017 Southeastern Wildlife Exposition in Charleston, S.C.
"I was the first Black artist they had and that show has been going on for 37 years," Tucker said. "I got accepted because of my work. I didn't send pictures of myself, I was just a name on my art. When I showed up to the opening they were like you're Ezra? You sure?"
But he doesn't expend energy getting angry. He's accepted this is how it is and might always be, though he says it's getting better.
"That's just the nature of how I live every day, understanding there will be rejections or difficulties I've got to deal with that are different than what you have to deal with," he said. "I work around that. I don't spend time getting upset about it. I know it's going to happen. I'm prepared for it. This is America. I don't think it's going to change. It's better than it was. It's better than when I was living in the South."
Growing up
Born and raised in Memphis, Tenn., Tucker was No. 5 of six kids, and doesn't remember a time when he didn't draw or paint. In high school he was the go-to artist to create images for school events. A friend's mom took one look at a drawing he did for a book report and told him he should consider becoming a commercial artist. And an art teacher gave him applications for art school.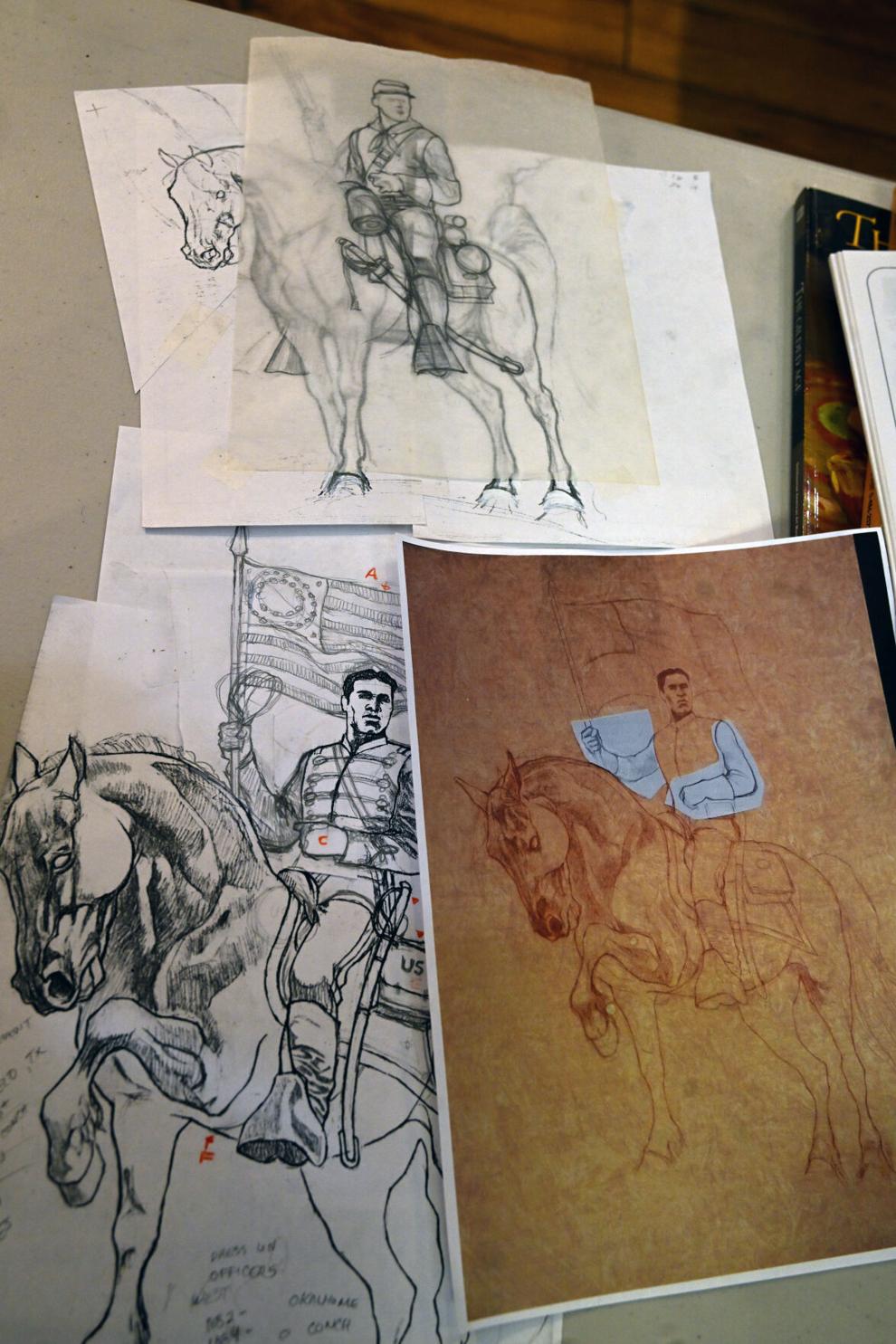 The only problem was his father, a Pentecostal minister and factory worker who didn't understand his son's passion for art, and did everything possible to push him toward a path that would secure him a job. Tucker persisted, though, and got accepted to Memphis Academy of Arts, on the predominantly white side of town, which also displeased his father. But he agreed to pay part of his son's tuition and Tucker worked nights to pay the rest. He graduated with a bachelor's in advertising design in 1977 and went straight to work as an illustrator at Hallmark in Kansas City, Mo., after being recruited during his senior year. It's where he met Blackshear and Nancy Tucker, another artist who became his wife. The couple has three children.
"Dad was happy I got that job," Tucker said. "He said people actually pay you to sit and draw pictures? I said yeah, can you believe it? I said there are benefits, insurance. He had never seen that."
Five years later, Tucker left Hallmark to go freelance. At one point, he had five agents around the country finding him work doing product illustration, posters, fine art prints, billboards, beer labels, paperback books, toy packaging and displays in grocery stores. And his agents knew his lifelong love for painting wildlife, so they found him projects with The Walt Disney Co., doing the Budweiser Clydesdale horses for Anheuser-Busch, labels for Coors Brewing Co., and movie posters of dragons and men battling exotic creatures for Hollywood.
It was a good life, but he got restless. He wanted to concentrate on wildlife art, so almost two decades ago he took a risk. It worked out. He found gallery representation in Aspen and had his first show in 2005. Patrons gobbled up his megafauna, the large animals you see in the West, such as antelope, bison, black bear, moose and elk, and asked for more. They also wanted larger pieces, so he obliged with works like a 7-foot-by-4-foot grizzly bear. His success grew and he expanded into galleries in Jackson, Wyo., Big Sky, Mont., and Bozeman, Mont.
And now he's taken another risk art with his expansion into Western history. His timing is spot on, as the buzz in the art world over the last several years is about museums wanting to make their collections more inclusive. It's mostly been talk until now, Fredrick says, as the majority of the work is still by white men. But there is a big push to balance things out.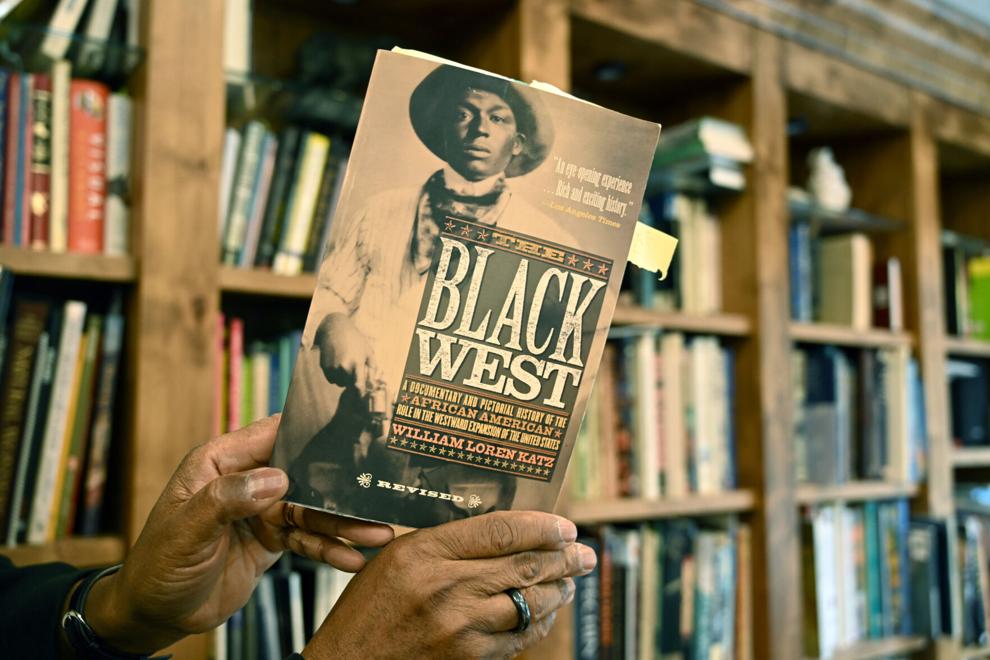 "What's great is Black artists are starting to come to the forefront and museums on all levels are looking to collect them and Hispanic and Native American artists," Fredrick said.
"It's a good time for Ezra. Looking back over his career and what he has endured, especially in the '80s and the illustration side of things and the prejudice, this is a nice renaissance for him."
Contact the writer: 636-0270