From dough to crust in under 90 seconds isn't about bakery raceways; it's what's essential to genuine Neapolitan pizza. Colorado Springs has several tiled pizza ovens from Italy that heat to 900 degrees, but it's the two men from Naples at Basil & Barley Pizzeria Napoletana who set a tastier, more authentic standard than other pizzerias.
Along with father and son co-owners Roberto and Sandro Calcagno, nearly everything at B&B is sourced from Italy or Colorado, according to our exceptional server, Kaylee. Roberto is head pizzaiuolo (pizza maker).
Authenticity isn't simply a catchphrase here. The restaurant was recognized as a "True Neapolitan Pizzeria" by the international Neapolitan Pizza Association. B&B is the only certified pizzeria in Colorado Springs and the second in Colorado. Recognition is based on criteria related to the process, ingredients, shape and size.
We began with Kaylee's suggestion of house-made burrata ($10.50) with crispy pieces of flatbread. The velvety cheese is served with paper-thin slices of prosciutto, shaved black truffles, heirloom baby tomatoes and basil pesto, all drizzled with truffle oil. It's a colorful, savory appetizer with a blend of textures.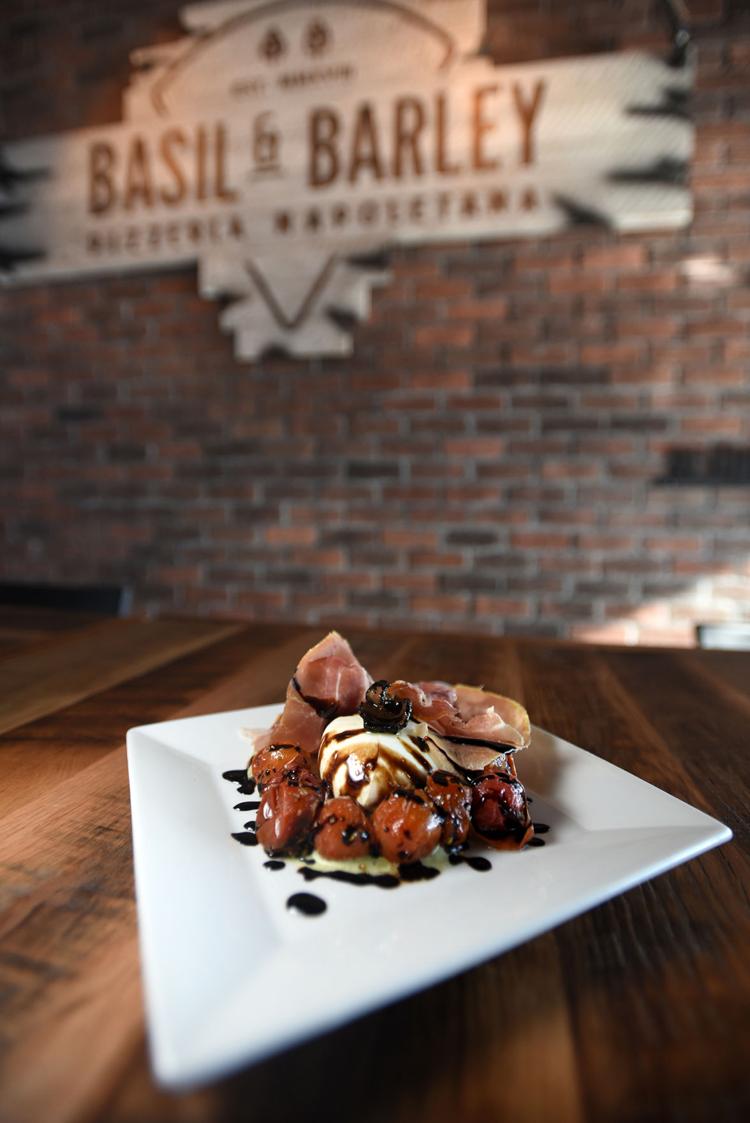 It's a given that basil is a primary ingredient in nearly everything. Barley, on the other hand, is less evident. It is one of five dough options, along with gluten-free, hemp, germinated buckwheat and Neapolitan. We sampled several. The latter is featured among traditional offerings such as the Margherita ($12.50). B&B does justice to this time-honored basic rendition: San Marzano tomato sauce, mozzarella, parmigiana, fresh basil and the lightest drizzle of extra virgin olive oil.
Other traditional possibilities include toppings such as artichokes, walnuts, prosciutto, salami and grilled Mediterranean veggies. Sizes are all the same, which can be enough for one hearty appetite or to share among friends. Prices range from $11.90 to $16.50.
The signature pizzas highlight not only variations in crusts, but also unique combinations of toppings, contrasting with the simplicity of the Margherita.
After much deliberation and Kaylee's suggestions, we ordered the O'Sole Mio ($17.90). Although it was my least favorite, it was certainly the most visually different with the most creative combination of ingredients. The germinated buckwheat crust is shaped into stars along the edge. Butternut squash cream, ricotta, tomato confit, soppressatta salami and provolone cheese all work surprisingly well together. The intense, almost bitter taste of the buckwheat nearly overshadowed the other great flavors. I was the only one at our table not enamored with the crust, however.
My favorite was the Basil & Barley ($19.50) with house-made pesto, blood orange-ale marinated porchetta, dried blood oranges, mozzarella and basil. Of all the enticing elements, the slices of dried orange were the highlight. Of course, you couldn't scoff at the others either.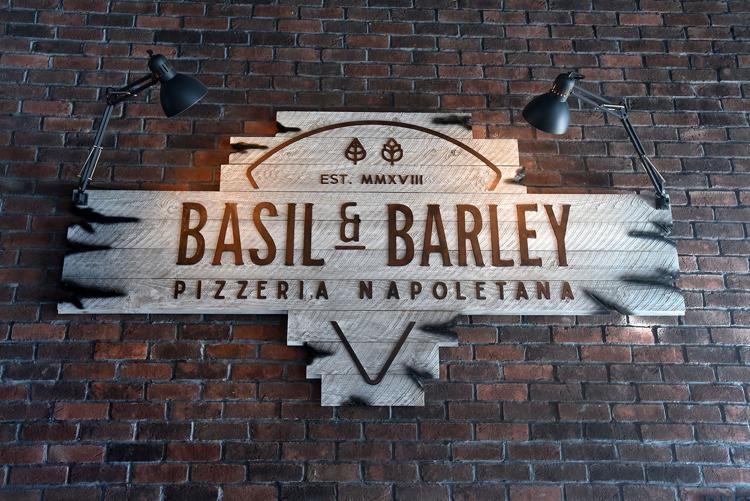 The Croccopizza ($16.50) combined the familiar with the unaccustomed: hemp dough and mozzarella, Parmigiano Reggiano and speck Südtirol (dried-cured smoked ham). The menu also indicates crocchè, best described as fried mashed potatoes. Basil and extra virgin olive oil also have supporting roles.
The menu has several appetizers ($6.50 to $16.50), salads ($11.90 to $13.80) and desserts ($4.90 to $7.80) .
At Basil & Barley, the sleek, contemporary look blends well with the Old World favorite. The only remaining question concerns the origins of the live olive tree that sits in the middle of a large round table with the colors of the Colorado state flag. Italy and the Centennial State make for good dining compagni.