Cuba isn't as far from Colorado as you think, thanks to HavanaGrill, a gem of a restaurant on the South Academy Boulevard corridor.
Don't be surprised to find the place crowded with those dining in or carrying out; any wait for a coveted table is worth it. Even with a packed house, our server took her time answering questions about the menu items. For some reason, we warranted table service, while nearly everyone else ordered at the counter. (That's where we paid once we established how things work).
One of the two owners had a restaurant in Miami for more than 20 years. The South Florida influence is evident in a number of dishes, says a close friend from Little Havana. The Cuban steak sandwich ($7.95) is just one example, with slices of marinated steak on Cuban bread with tomatoes, grilled onions and tiny, crispy potato sticks: slivers of chips made to look like miniature french fries. I think I enjoyed the few shared bites more than my friend did. The chips add an interesting element, and the bread, similar to a French roll, held everything together without crumbling after a few nibbles.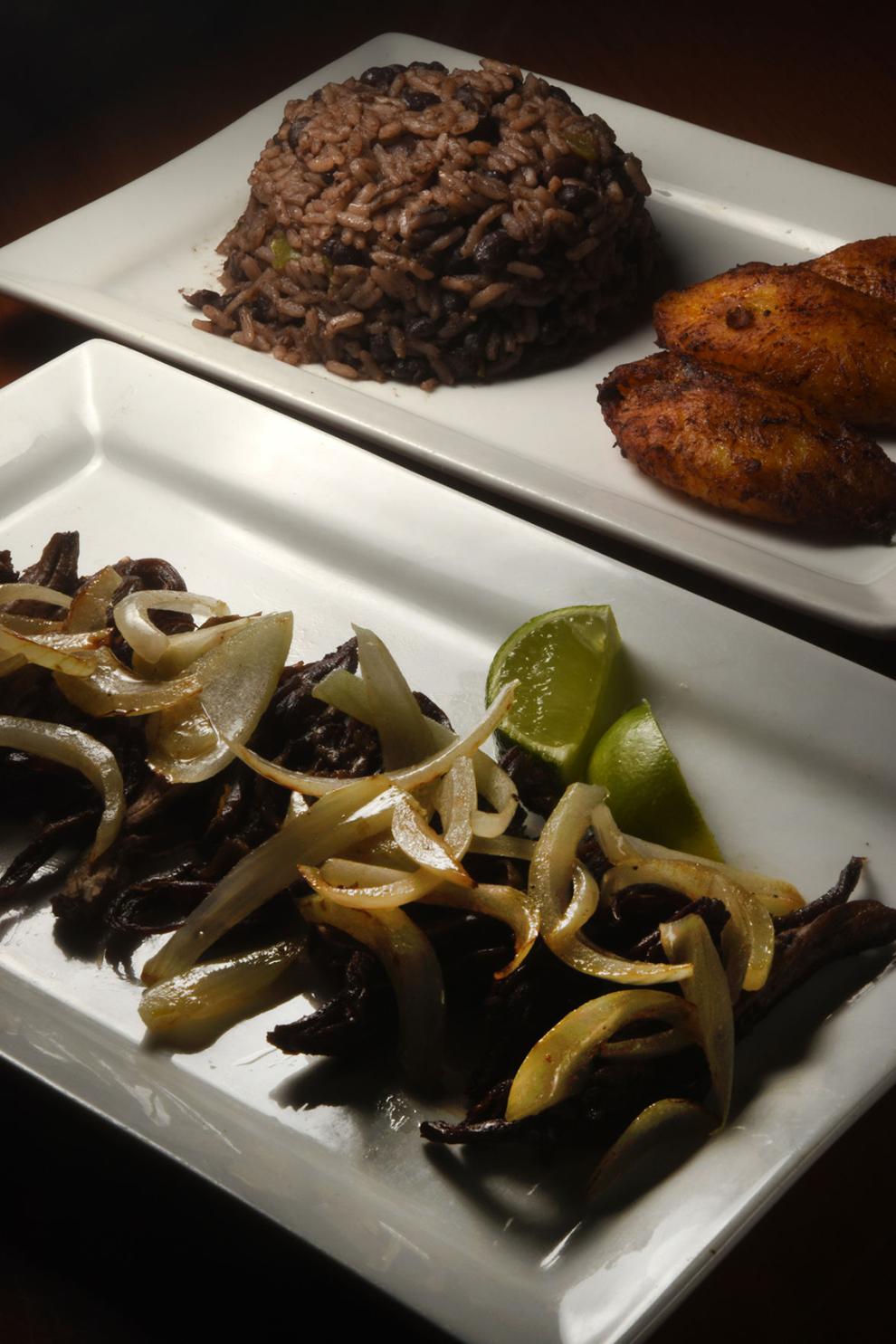 I've sampled vaca frita ($11.95) before. HavanaGrill's execution is exceptional. Shredded beef, lightly sautéed in oil so it gets a crispy finish, is topped with grilled onions. The food on the plate was more than enough for two meals. All entrees include two sides. Options are white beans with rice or moros rice (a combination of black beans, white rice, pieces of grilled pork and herbs), sweet plantains or french fries. The only thing that threw us off was when our server asked if we wanted beef or chicken. Vaca means cow, so we didn't consider poultry an option. But it's on the menu.
Our server recommended the fried pork chunks ($10.95). It sounds much more interesting in Spanish: masas de puerco. These are fist-size pieces of pork that have been lightly fried, so the result is a crusty exterior encasing tender meat. Even though the moros rice also contains pork, it was the perfect accompaniment, as were the sweet plantains, which are sweet and gooey like caramelized bananas.
The shrimp Creole ($12.99) seemed out of place, but we were told it's one of the owner's favorites. It's easy to see why. Served in a large cup, with the same side options available, this is chock-full of shrimp, with nothing to suggest anything to do with the bayou states. The tomato base includes garlic and oregano, with a trace of the green pepper, onion and celery trinity. The only thing missing was bread to sop up the extra juices.
We made the mistake of ordering the tostones ($3.25), which are breaded and fried plantains. They are dry and bland compared with their sweet counterparts.
We wanted to share a vanilla flan ($3.50), but it was sold out. Several other desserts are available, including pastries and tres leches cake ($4.25), which we ordered. When it was delivered to our table, the server said, "You are about to fall in love." She was right. The airy cake was just the right amount of sweet, despite the thick white icing.
Daily specials are available, and HavanaGrill is open for breakfast. Hours recently have been expanded to seven days a week. Prices are not only reasonable, but also remarkable given the quantity and quality of the food.