- PHOTOS: Documenting COVID-19 in the Pikes Peak region.
When tickets to Flying W Ranch's grand reopening went on sale, they sold out in less than two hours.
Fans of the Flying W — a Colorado Springs staple since 1953 — were eager for the triumphant return of chuck-wagon dinners and shows by the Flying W Wranglers. It already had been nearly eight years since the ranch was ravaged in the Waldo Canyon fire in 2012.
They'll now have to wait longer.
Flying W's highly anticipated reopening, scheduled for May 21, has been pushed back due to the coronavirus outbreak to June 26 — the exact date the fire destroyed the ranch.
"If you could imagine waiting so long to open and being ready to open and then this happens, I can hardly describe it," owner Leigh Ann Wolfe said. "It's really tough on us."
As crews worked to put the finishing touches on the rebuild, with both indoor and outdoor attractions, Wolfe said she made the tough decision within the past few weeks based on orders and statements from Gov. Jared Polis. 
Under a safer-at-home order, Polis has shared a goal of reopening bars and restaurants by mid-May. Gatherings are currently restricted to 10 people or less.
"We didn't want to be part of something that wasn't safe," she said. "It's out of our control. It's out of everyone's control."
The reopening weekend in June won't exactly match the grand celebration everyone imagined. Flying W attendees will undergo temperature checks upon entry and be advised to follow social-distancing guidelines and wear masks.
The ranch was rebuilt to welcome 1,400 people to chuck-wagon dinners and shows, but Wolfe expects to limit attendance to 500 people or so.
It's possible they'll have to further cut the number of people allowed on the property at a time, which would be a big hit to business.
Wolfe and her team have run the numbers.
"If we just break even this year, we'll still be OK," she said. "Just OK."
As summertime events and festivals continue to be canceled or postponed, it's not yet known how — and if — large gatherings will be held in the coming months. So, Wolfe has also considered a worst-case scenario.
"If we're not allowed to have more than 50 people here, we won't be able to reopen," she said, because ticket sales wouldn't cover costs of running the business. "We'll just wait until next year."
For now, the show is on.
"We have spent so much time getting this right," Wolfe said. "We have to get started."
One of the centerpieces of the new Flying W is a multimillion-dollar 8,000-square-foot dining hall and event center that seats 850 people, double the original hall. The space comes with covered patios and translucent garage doors, which can be lifted during nice weather and offer stunning views of the surrounding rock formations as well as the thousands of acres of scorched trees.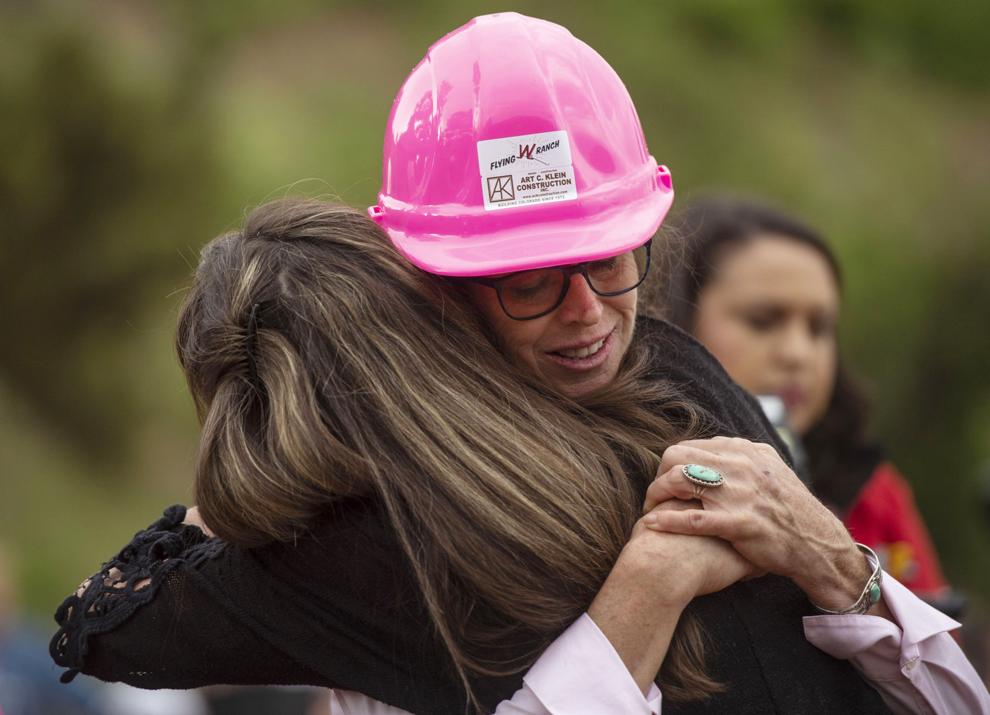 If it were up to Wolfe, the impressive new facility would rarely be used for summer shows and suppers, which run through Sept. 30.
"We really want to be outside under the stars and the lights," she said.
In case of rain, the nightly show will be moved to the building. Starting Oct. 1, it will be open as a restaurant called, The Smokehouse at Flying W.
An outdoor area a few steps away will be the main stage for the Wranglers, the second oldest singing group of its kind. Rows of 40-foot-long wooden tables will serve as seating.
Work is ongoing to complete the full Flying W Ranch experience, including a chuck-wagon village, animal activities and other attractions.
Ahead of the reopening, the Flying W Wranglers auditioned 300 people from across the country to join the group. It will be the next chapter for the operation Wolfe's parents, Russ and Marian, started more than six decades ago.
"I have to honor my parents legacy," Wolfe said. "I have to give it my absolute best shot."
Wolfe says people call every day to see if the Flying W is open. When she decided to reschedule its reopening, staff members personally called each ticket holder about the new date. They all said they'd be at the ranch on June 26.
"They just want to be here," she said. "They've waited so long."