Sports director Ashley Giovanna has been with KXRM, the Fox affiliate serving southern Colorado, since April 2017. In an effort to get to know the Ohio-born, Texas-raised anchor away from the camera, I offered up seven simple questions.
Question: What's your favorite sporting event that you've covered?
Answer: There are so many, but I will pick two. First off, I'd have to say my first Broncos game. It was a surreal moment to look around Mile High and go, "Wow, I'm getting paid to 'work' right now? Someone pinch me." ... My second favorite event happened out east. Sorry, Broncos fans. When I worked in Boston, I rode in the 2015 Patriots Super Bowl victory parade. I am NOT a Pats fan; however, riding behind Tom Brady, the Lombardi Trophy, through the streets of downtown Boston was unforgettable.
Q: Has there ever been a time when you were completely starstruck?
A: When I was interning for the Cubs, back in the day, all of the players used to enter the stadium through the normal concourse. The first time I saw Prince Fielder, when he was in his prime, I stopped in my tracks. He was the most enormous human being I had ever seen.
Q: When you were a kid, what did you imagine doing for a living?
A: Funny enough, I actually wanted to be a prosecutor/first woman president/federal judge until I was about 14. There is a picture of my 7-year-old self dressed up, pretending to get sworn in. Now I cannot imagine doing anything outside of sports.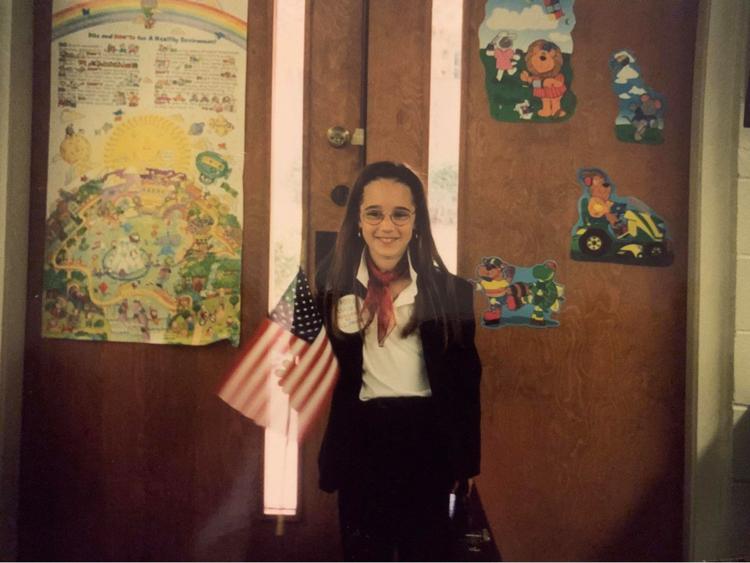 Q: What do you think you'd do for a career if you weren't in news?
A: If I wasn't in sports/news, I would probably work for a local nonprofit helping the community we live in grow and flourish. I love helping people and enriching the world we live in. My family has consistently done volunteer work my entire life, so it would be a natural fit.
Q: What's the most challenging/misunderstood part of your job?
A: The most challenging part of my job is doing the job of four to five people at once. Not many people know this, but I have to shoot, write, edit, produce and anchor every day. This is much more the norm in television news nowadays. The most misunderstood part of my job, which always makes me chuckle, is we do not have a makeup artist or wardrobe (stylist) on-site. It's all me. I do my hair, my makeup and buy my own clothes. So, if you aren't a fan of my outfit that day, sorry. I actually own that dress.
Q: As a big fan of Notre Dame, what's your all-time favorite Fighting Irish football team?
A: There are so many to choose from, but I have to go with the 12-0 season of 2012 when we went to the national championship. I was in school and experienced every win firsthand. Even though my boss (Joe Cole, an Alabama grad) likes to give me grief about the thumping we got in Miami (Alabama beat Notre Dame 42-14), I will never forget the moments throughout the regular season — like the goal-line stand against Stanford. After they reviewed the run, you could have heard a pin drop when the ref came back and said, "The ruling on the field stands, no touchdown," and 80,000 Irish fans erupted in joy. It was epic.
Q: Which co-workers do you hang out with the most?
A: We are really lucky to have a solid group of people at Fox21. Our newsroom gels on a special level. The moment I realized that, I thought, "I am so lucky." Not many people can say they love everyone they work with, but I truly do.
Gazette TV critic Terry Terrones is a member of the Television Critics Association and the Critics Choice Association. You can follow him on Twitter at @terryterrones.