The neighborhood around Platte Avenue isn't one you'd want to wander through after dark. Or during the day, for that matter.
But beneath its hardscrabble exterior, one artist sees latent beauty and unrealized potential. Where others might dismiss the bare, dirty walls on the drab, run-down buildings, Paes164 sees blank canvases crying out for artistic expression. Not graffiti, but street art.
"Street art is more urban imagery, and the majority of it is typically done with spray paint," said Paes, whose name is a smash-up of a Hispanic name and group of letters he liked and his old Boy Scout troop number. "Graffiti is wrapped-around lettering, characters, somebody's name. Street art is a big mural by young urban artists. It's got graffiti roots, but it's definitely not graffiti. Street art is always legal, and graffiti is typically illegal."
While many business owners might try to stay as far from a challenging neighborhood as they can, Paes moved his Creator Supreme Tattoo Studio to the heart of Platte Avenue about a year ago, in a plum location near stalwart businesses Ace Loans Pawn Shop and Platte Furniture.
He gathered his spray paint and artistic buddies and created a permanent outdoor gallery: huge, colorful, eye-popping murals of an octopus, cherubic angels, honeybee, butterfly, geisha girl, art nouveau flowers and a portrait of Jimi Hendrix, to name a few.
Paes since has dubbed the area the Knobhill Urban Arts District.
"I love it when artists play a lead role in helping to redefine the meaning of 'place' within their own communities," said Andy Vick, executive director of the Cultural Office of the Pikes Peak Region. "What's happening now in the Knobhill Urban Arts District is a great example of how the arts can be a catalyst for positive change in our neighborhoods."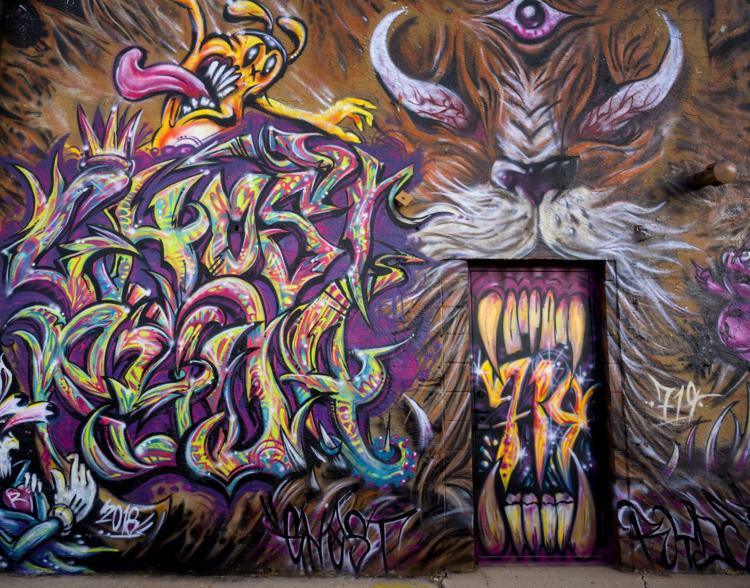 Man behind the murals
Paes is a walking billboard for art. He's a graffiti artist turned tattoo artist, and his flesh confirms his passion, as inked drawings blossom from beneath his shirtsleeves and creep above the neckline. His skull hasn't escaped the tattoo needle either.
Before he started decorating his clients' skin 21 years ago, he earned a reputation in San Antonio by branding many a train and highway overpass.
"My name, big as (expletive), different varieties, colors and letters, and on dangerous (expletive)," said Paes, 41. "I painted 182 trains in 1997."
His extracurricular activities didn't escape the notice of Texas law enforcement agencies. To avoid arrest, he dropped out of high school and then a GED program, only to be cuffed a couple of months later and sent to boot camp. Upon his release, he ventured into the world of legal art.
"Tattooing fell in my lap," he said. "Unlike a lot of art forms, you can really be yourself and make a living. Unless you get shock and awe from your paintings, it's corporate art from then on out. Tattooing is good to me."
He followed his father to Colorado Springs in 2007 and stayed after meeting his wife. They have three children, and he has an 18-year-old son from a previous marriage.
Now he hopes to not only contribute to the arts community, but also breathe new life into Knob Hill.
"There's not so much of a big graffiti push here in town," said Paes. "That's what the Knobhill District is all about — pushing the art right into the center of the city. The city's growing."
Shortly after moving to the area, Paes spent a Saturday walking up and down Platte Avenue, between Union Boulevard and Circle Drive. He visited with business managers and owners, showing them his artistic visions for their walls.
One perk of Knob Hill: Business owners also own their buildings, unlike elsewhere in the city, where many structures are owned by franchisees who live out of town.
"Everybody said yes," Paes said. "I hoped I'd get three or four walls, but I got 20 that day."
Twenty walls was a bit much for one artist, so he reached out to friends and the arts community. Interest was high. Ten artists have done 15 murals, and there are plenty more walls to be filled.
Gabi Doussett, an instructor at Bemis Art School at the Colorado Springs Fine Arts Center at Colorado College, finished a wall in September. Her art nouveau flower is part of a triptych with street artists Optik Nerv and Muji. Doussett said she enjoyed the experience so much, she's rounding up Bemis instructors to paint another wall in May.
"Every day, I'd have 20 to 30 people stop and talk to me and say how much they appreciated the art," she said. "People driving by and saying this is what we need. Sometimes street artists and tattoo artists don't get the accolades they deserve, and some of them are such great artists."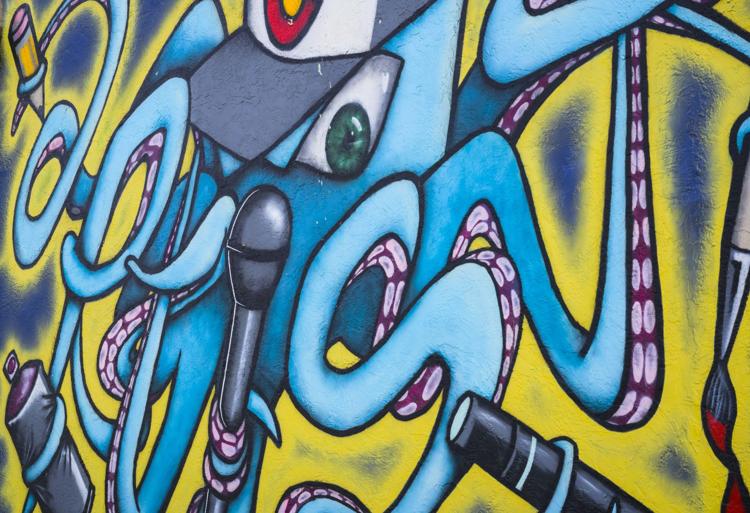 Neighborhood approval
The endeavor is a win-win for business owners, who need only nod yes to each rough sketch, sit back and watch the spray paint fly. Artists have free reign over what they want to create, as long as it's in good taste and doesn't reflect political or religious viewpoints.
"When people are driving up and down Platte, they're stopping and taking pictures," said Nathan Vatcher, manager of Ace Loans Pawn Shop. "They hop in the shop and see what it's about. It's been nice. I've seen the neighborhood kind of cleaning up a little bit. We've had a little bit of a drug problem, and now I see families coming in with kids and walking around and coming into the shop."
Real estate agents also have been sniffing around, said Paes, popping into his tattoo shop to ask about the buzz.
"It's a good and bad thing," he said. "We don't need five Starbucks, but some money in the area could be nice."
Speaking of money, those murals don't come cheap. Each artist provides his own paint. At $5 to $10 per can, an artist can spend up to $800 on materials. Paes estimates the average mural costs $500.
Most of the street artists who include contact info on their murals have gotten other jobs, though. Mario Sanchez, who painted the giant octopus, recently was paid $10,000 for three projects that resulted from his mural.
"It becomes a lot, but it's worth it," said Paes.
Contact the writer: 636-0270