Hey outdoor festgoers of summer, Penny Bever's got one word for you. Just one word: skorts.
"I can wear them and no matter what I need to do — run, bend down on the ground, whatever — I'm appropriately dressed," said Bever, an event volunteer at last Saturday's Feast of St. Arnold in Colorado Springs.
The skirt/shorts hybrid that Bever wore to the fundraising beer fest for Westside Cares, on the grounds of Chapel of Our Saviour in the city's Broadmoor area, came with another (fitting) bonus feature, as well.
"These are actually thrift store LL Bean skorts, and they repel water. So someone could spill water on me, or I could spill water on me, and it brushes right off," Bever said.
Man-made spills, or ones from above; sun, heat, chills and a cool factor that has nothing to do with the weather. So many contingencies to consider when it's crunch time for festival dressing.
"Sometimes people will wear styles that, it's like they're on vacation, probably things they wouldn't wear anywhere else," said Bever, who's worked the annual festival since it was founded in 2013. "Some people are more practical. They'll wear a simple T-shirt and something cool, but practical footwear that they can walk around in and not trip and break their neck. Especially if you maybe have just a little sip too much."
For me, ideal summer suds duds are straight-up Clampett or Free People clearance rack. There's usually a straw hat and sunglasses (at least until I misplace them), mini "festival purse" or (if returning to the car isn't an option) mini backpack with the essentials: ChapStick, sunscreen, lightweight shawl in case temps drop or the grass is pointy and I need to sit. As for footwear, last Saturday's full sun and 80-something temps were too much for statement boots, of which I own many, and I don't own statement sandals with open toes (you're welcome). Go-to Mary Jane-style Crocs it was.
Fest-goer Taylor Cobb began the day by Pinteresting "What to wear to a beer fest." She then tossed those suggestions aside in favor of flowy and fashionably "comfy."
"I knew I needed a hat. I did wear sunscreen today. Sunglasses of course. Then I made the decision, should I wear boots or should I wear sandals? 'Cause I love my boots, but sandals ... obviously it's hot," said Cobb, of Colorado Springs"And then I had to wear my shawl to protect my shoulders 'cause that's what gets burned the most."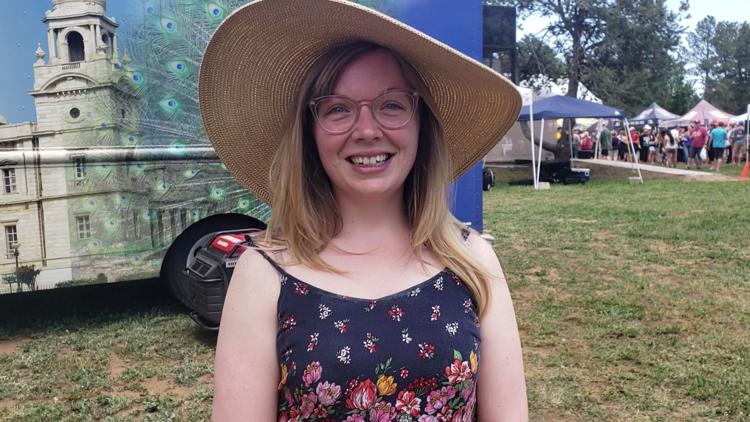 Opal Cornacchione, sporting a big floppy hat, sundress, knee-high socks and pastel saddle shoes, said she didn't begin the day dressing with an outdoor beer fest in mind.
"Honestly, this is what I put on when I got up in the morning planning to have nothing to do today," said Cornacchione, who was getting her hair cut Saturday morning when her stylist suggested she check out the event. "I just happened to be in a perfect beer fest outfit."
One deliberate accessory for Cornacchione, and one we cannot stress enough for anyone festing al fresco in Colorado: sunscreen.
"I burn so easy, so I've reapplied three times today and can see I've got a bit of red going on. So I need to reapply again," Cornacchione said. "I feel like it (I'm protected), but you know what? I've felt protected before, then woken up in the morning with a sunburn. So I guess we'll see tomorrow."
Got a suds duds photo that shows your summer-festing spirit? Share it with us at pikespub@gazette.com, and we'll add it to the online album.