I kill plants.
Not on purpose, I swear, but there's no denying the direct relationship between the amount of care I lavish on a plant and the subsequent speed of its demise (unless it's a weed).
I also know what motivates me to do things outside my comfort/success zone: beer. I'm not big on exercise, but beer got me up the Manitou Incline. Maybe, I figured, one of beer's key ingredients — hops — could help me realize my repressed horticulturist.
And so I found myself, on a Sunday in early May, at an info session for wanna-be hops growers at Local Relic's Carter Payne chapel. The Colorado Springs craft brewery makes more than 200 beers each year, and brewer Grant Goodwiler likes to keep ingredients as locally sourced as possible. One motivation behind the gathering of maybe two dozen, which wrapped with the distribution of hops plant rhizomes, is that growers "will be kind enough at the end of this process to share your hops back with us," Local Relic co-owner and class co-presenter Jeff Zearfoss said.
Sure thing! But given that the "process" of ushering hops from rhizome to buds is a few years in the making, there's a lot of time for something to, you know, go wrong.
"It's OK if you've got a brown thumb," said Barbra Gibb, executive director of Pikes Peak Urban Gardens and a class co-presenter, who was unfazed when I copped to a history of flora fails. "Plus, you're getting them for free, so what have you got to lose?"
Easy for a successful grower to say. I felt a little better after hearing that the couple seated beside me had attempted to grow hops last year and failed. This was a judgment-free zone. Yay.
Hops plants grow from a twiggy rhizome, a fragment of the root system (think friendship bread-starter, with limbs). Such perennials grow all over the world and "pretty well in Colorado," Gibb said. While the region's dynamics make it tough to sustain a dedicated commercial operation, backyard hops patches are popular for the decorative climbing foliage they produce and, increasingly, as working gardens for hobby brewers.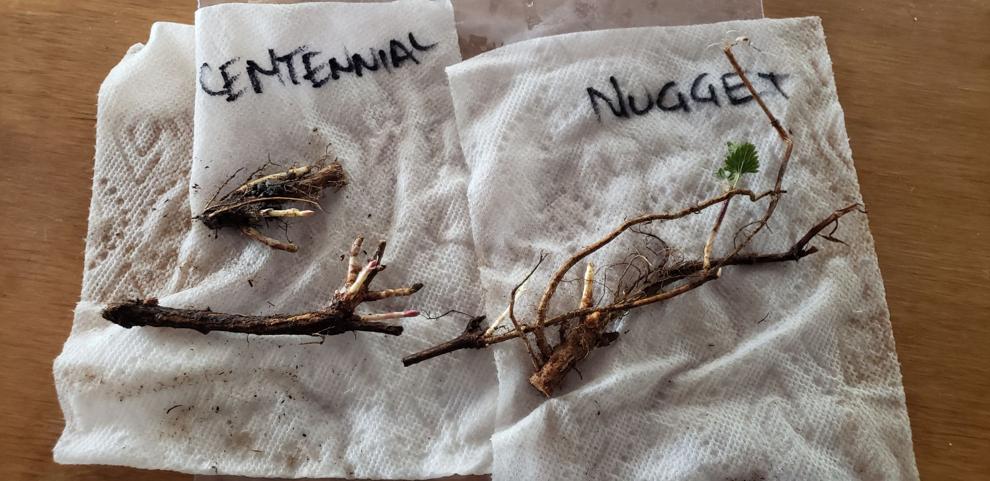 Hops cultivation can be a labor or a breeze, "depending on your gardening philosophy," Gibb said.
"Hops are actually pretty forgiving when it comes to the soil. But you do want fairly loose and well-drained soil," she said. "We have very clay soils around here, so if you're going into a part of your lawn or yard where you've never really disturbed the soil much or you're going to move some grass away to plant your rhizomes, then you're going to want to work the soil a bit, loosen it up, to get some drainage in there."
Established hops are a force of nature. Getting them to that point, though, might require a "bit of babying" over several years, Gibb said.
Odds of the plants thriving are better if you "geek out," test the soil and amend as necessary, but such helicopter parenting isn't necessarily required.
A lazy grower might simply opt to let them adapt.
"There's a couple different ways you can approach it. It depends on your gardening philosophy and what type of gardener you are," Gibb said.
"If you're more of a zen gardener, you can also pretty much make sure the soil is OK, plant those babies, give them enough water, maybe douse them with a little something once in a while, and they're probably going to do OK."
Zen hops gardener it is.
Follow @pikespub on Twitter for updates and/or plant obits.