Monday morning worker bees still are slurping their first cup of joe as the book fanatics inside the Pikes Peak Library District's bookmobile prepare to hit the roads.
Mobile Library Specialists Terri Cotten and Anna Faye Hunter efficiently maneuver through the cold downtown garage outside Penrose Library, where three bookmobiles of varied sizes are parked. Cotten loads patrons' "holds" onto the bookmobile shelves, while Hunter checks off boxes on the vehicle maintenance list. Gas? Check. Tire pressure? Check. Oil? Check.
Mondays are particularly busy for the bookmobile, though it rumbles into the city and county every day but Sunday. On this Monday, they'll be in Black Forest from about 9:15 a.m. to 4:30 p.m., first at School in the Woods and then on a small dirt lot at Black Forest and Shoup roads.
"They really love us," Cotten said about their patrons. She's been working the bookmobile beat for 16 years. Hunter's been on board for 3½. "They take good care of us. One Black Forest patron used to bring us coffee. One brings us treats at Christmas."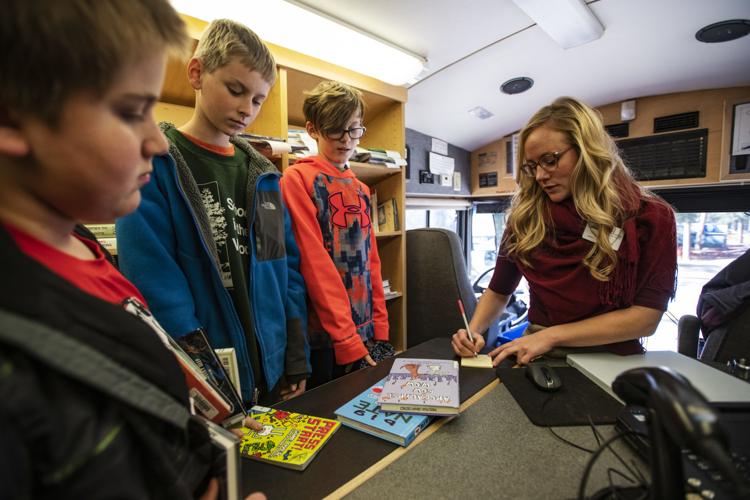 The PPLD bookmobile has been on the road since 1954. Similar programs around the country have started to disappear, said John Spears, PPLD's chief librarian and CEO, but the local program is steadfast.
"It's a large investment and some libraries have started to go to books by mail and other approaches," he said. "We do value the interaction and the face-to-face time we're able to have with people in those rural communities."
With 14 library branches in the region, including six in the communities immediately adjacent to the Springs, that means half of the service area is uncovered with a physical location. The bookmobile helps fill the gap.
"It connects them to the broader community," Spears said.
"Those people are still tax payers and are still part of our district. We want to make sure we continue to serve them in the best way we can. To take the bookmobile out there and be able to respond to what they need is extremely important to us."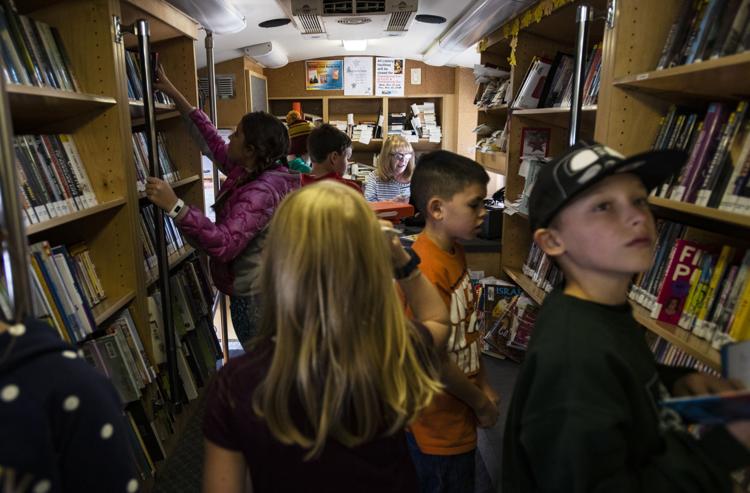 The one-stop shop's staff can review patron records, accept payment for fines and help folks do catalog searches, including at schools in Rush, Ellicott and Calhan and at senior centers, where they pull the Dodge Sprinter van to the door and serve assisted-living seniors in the lobby.
"It (lobby stops) builds on having that one-on-one interaction with residents of assisted living facilities, people who aren't able to leave," said Spears. "There we do do a lot more programming, like playing games with them and interacting with them on a level they don't very often get to do with people from the outside."
And much like the U.S. Postal Service, the bookmobile isn't thwarted by weather. Mostly. Though Cotten remembers that one time they should have curbed the bus. They were headed toward Ellicott in blizzard conditions so bad they were forced to pull over at Fuel B's in Calhan and hang out with truckers. Eventually, they could follow the big rigs back into town. They don't like to miss their stops, though, which are weekly in the county and every other week in the city. If they miss one week due to bad weather, city folk won't see them for a month.
Fortunately, bookmobile patrons get to check out materials for twice as long, which means six weeks for books (minus rapid reads) and four weeks for DVDs and videos. The bookmobile also is used to test areas to see if any can handle a branch. That's how PPLD branches in Monument, Palmer Lake, Falcon, Rockrimmon and others got started.
Climb aboard for a glimpse at a day in the life of a library on wheels.
7:30 a.m.: Cotten loads holds onto the bookmobile to prepare for two stops in Black Forest.
7:45 a.m.: She and Hunter make sure the shelves are stocked with about 5,000 materials, including books, DVDs, comics, video games, magazines and playaways. All of the fiction materials have been published within the past six months. Nonfiction items are from the past three months, due to the large number of books in the genre. The staff chooses material based on what they know kids and other patrons at their stops like. Their seniors love anything about history. But maybe more surprisingly: "Kids like non-fiction better than fiction," Cotten said.
8:15 a.m.: Hunter inspects the vehicle before they depart. Driving the hulking bus doesn't seem to daunt either woman. "In my previous job, I drove a trailer," Hunter said. "So if I can drive that, then I can drive a bookmobile."
8:37 a.m.: Time to pilot her out of the garage and hit the road. First stop: School in the Woods, a District 20 choice school for fourth-graders. The school places a high importance on teaching kids how to use the library system and place holds. "They're educating a new group of library users," said Cotten. "The mission of the library district is to bring in more young users. The school stops are really good for that."
9:22 a.m.: Cotten drives past the charred remains of the 2013 Black Forest fire. They visited here right before the wildfire and didn't return for two weeks. When they did, about 70 people climbed on board and told the staff how grateful they were to have the normalcy of the bookmobile back. "A third of our patrons lost their homes in the fire," said Cotten.
9:30 a.m.: Open for business. The kids are eagerly waiting outside. Ten-year-old Aiden Kautz, clad in a Harry Potter Hogwarts hat, bangs on the door. He immediately goes to the video game shelves and starts pulling out materials. He can't check any out here, though. Some schools put the kibosh on checking out certain items, such as video games, DVDs and adult books, though the kids or their parents can put a hold on the items and pick them up at a different bookmobile stop or library branch. "We don't want to censor them or let them have it," said Lisa Ward, PPLD mobile library supervisor. "We leave it up to the parents."
10 a.m.: School in the Woods' Coordinator Jon Wuerth bounds on board. "We love the bookmobile," he said. "It's important for students to use their creativity and imagination. They come here, and it's like Christmas."
10:15 a.m.: Uh oh. Cotten has to break the bad news to 9-year-old Justin Lavallee that he has four overdue books. "I was reading it," he said about one of them. "I'll bring it back soon."
11 a.m.: Melanie Kolodziejczyk climbs on board with her 12-year-old mixed-breed dog, Beamer. They're on their way to the vet, but she wanted to stop so her pup could get some scratches and she could get some books. She comes almost every Monday to satisfy her fix with mysteries, suspense and science fiction. "I'll return books at a branch, but I use this facility," she said. "It's so easy. It's 10 to 15 minutes from my home, and they don't mind me bringing Beamer."
11:20 a.m.: A lot of homeschoolers take advantage of the bookmobile, especially in Black Forest and Rush. Sandra Gold was one of them. She homeschooled her two kids for 13 years and visited the traveling library every week. She's still a big fan. "They're great about taking requests," she said. The bookmobilie is " the best idea they ever had. We can come in the winter, so we're not snowbound all day long, and see people. In the summer, you have to practically beat your way through."
11:30 a.m.: Cotten fires up the engine and points the bus toward a dirt parking lot at Black Forest and Shoup roads. They'll be here an hour, then close for an hour-long lunch break and reopen for three hours in the afternoon, finally departing at 4:30 p.m.
11:43 a.m.: Rhonda Mabrey couldn't wait one minute longer to quench her addiction. She arrives a couple of minutes before the official opening but hops on board anyway. She's meeting her daughter here, where they'll separate a big bin of books and DVDs into hers-and-hers check-outs. "It's a community," said Mabrey. "You see the same people. I would run into my sixth-grade math teacher. It's a meeting place. It's close to (Library) 21c, but this feels more like a library to me."
11:55 a.m.: If the bookmobile's a-rockin', don't come a-knockin'. Or do. Shortly before noon, kids and adults pack the joint . Cotten and Hunter are working as fast as they can. They even do pre-check-outs for people who place a lot of holds, so their materials are ready when they show up. "This is one of our busiest spots," said Hunter. Another popular hub, she said, is Saturday mornings at the Bon Shopping Center.
12:05 p.m.: Three-year-old Levi Mahon carefully climbs the stairs while holding one of his most prized possessions — his recently acquired library card. He adores Cotten and sits by her as she checks out books. He and his mom, Krystal Mahon, come every Monday.
12:15 p.m.: "Is that the end of the line?" one patron asks, looking at the long queue of people stretching halfway down the vehicle. It is indeed.
12:20 p.m.: Carrie Isaac and her five kids, ages 6, 8, 9, 11 and 13, drag two big blue bins of books out to their car. She's a homeschooler, and they go through at least 100 books (the check-out limit) every week.
12:23 p.m.: By now, Hunter usually has her own small stash of returned items that caught her eye. Not today. She's been too busy checking in materials. But she loves the rapport she's developed with patrons. They exchange likes and dislikes and introduce each other to new authors.
4:30 p.m.: Patrons who hopped on board: 214. Number of check-outs: 580. The numbers fall in line with the average Monday. It's merely another day on the bookmobile, making patrons happy wherever they go.
Contact the writer: 636-0270