Lovers of food made in the belly of a truck will find a kindred event this weekend.
The fourth annual Food Truck Cook-Off is Sunday at Broadmoor World Arena. It kicks off Small Business Week for the Pikes Peak Region, which runs Sunday through May 9.
- Want more dining and drink updates? Sign up here for our newsletters.
About 1,500 people showed up last year to ingest samples from 18 local food trucks. Many more had to be turned away. This year, the number of trucks has skyrocketed to almost 40, and 3,000 folks are expected to show up, so people are encouraged to pre-register. With 208 food trucks registered with the BBB in El Paso County, up from 200 last year, it's clear the food truck trend isn't going anywhere anytime soon.
"They have each part that a small business has: accounting, licensing, marketing, legal," said Paul Myers-Bennett, vice president of marketing and events for the Better Business Bureau of Southern Colorado. "They are a small business on wheels. One of the easiest ways to bring awareness to small business is to have almost 40 of them in one location to show off their goods. People love them."
The vast majority of this year's trucks feature a meaty dish. Vegans and vegetarians, never fear; organizers promise to include more meat-free options at future events. Food samplings include beef lumpia from Filipino Food Truck, Heavenly Dog with onion sauce and cheese from Heavenly Dogs Food Truck, Southern fried chicken with jalapeño gravy from Kabob Kaboose, Cuban lechón bowl from Lucy I'm Home and a pork belly slider with slaw and blueberry barbecue from Scratch Mobile Kitchen & Catering.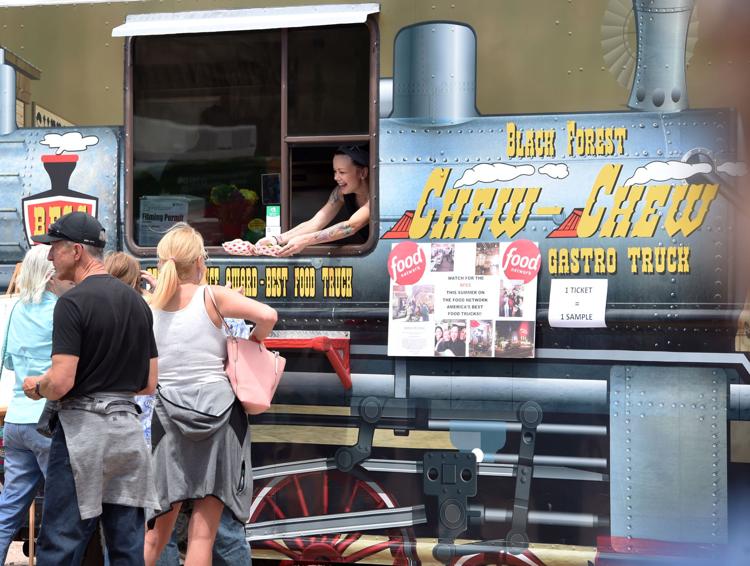 For the sweet tooths in the house, try a lemon lavender cupcake from The Springs Cupcake Truck, ice cream from Josh & John's Scoop Bus and gelato from Tin Heaven. Beer and margaritas also will be available.
Attendees will pay $25 for 10 sampling tickets, and each truck will offer two sizes of their featured dish for either one or two tickets. The public and judges will vote for their favorite truck.
"It brings the culture, ethnicity and ethnic foods that aren't necessarily available," said Aikta Marcoulier, executive director of Pikes Peak Small Business Development Center. "Each truck has a following. Black Forest Chew Chew won people's choice for the last two years. You're never going to find Korean bulgogi steak taco anywhere else."
JENNIFER MULSON, THE GAZETTE, 636-0270, JEN.MULSON@GAZETTE.COM